Surveys show that 59% of people would rather go on a relaxing vacation than one filled with a lot of vigorous activities. If you're one of those people, then planning a vacation to Africa should be on the top of your to-do list.
When it comes to finding things to do in Africa the list is never-ending. There are plenty of adventurous things you can add to your list but there are also lots of wildly relaxing activities that you need to do on your next vacation.
Keep reading for our guide to the top five reasons why you need to plan a vacation to Africa.
1. Wind Down on the Beaches
When it comes to a relaxing vacation the first thing that might pop into your head is relaxing on the beach and there definitely isn't a shortage of beaches when it comes to Africa. You'll find numerous white sand beaches that are just waiting for you to plop a towel down so you can spend your entire day sunbathing.
Africa is filled with private beaches, public beaches, or even hidden beaches that many people just don't know about. You may even want to rent a boat so you can explore the water from off the shore. When it comes to the water the options are endless and it's really up to you on how you want to spend your day.
There is even a beach in Kenya that is partly a zoo called Diani Beach. This means that while you're relaxing on the beach you might find colobus monkeys swinging from tree to tree or even spot camels strolling along the water. If you're looking for a bit of an adventure after you're done relaxing, then you may want to hire a camel for a ride for a bit of fun on your beach day.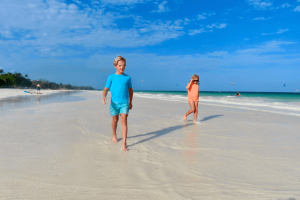 (Photo/ Unsplash)
2. Camp Out Under the Stars
One way to truly relax on your vacation to Africa is by gazing up at the beautiful night sky. You will find that Africa offers some of the best views of incredible galaxies that you will ever see. What is the best way to stargaze during your vacation to Africa?
Renting one of the perfect star beds of course! A star bed is basically an outdoor and open-air bedroom with a comfy bed, down duvet, toilet, as well as a shower.
When it comes to staying in a star bed you and your partner are going to have the most romantic getaway of your life. You'll be sleeping in a secluded area all on your own right under the Milkyway.
Sounds of nature like hippos, hyenas, or even lions will lull you to sleep and the sweet sounds of birds will be your wake up call. Don't forget that you can wake a beautiful sunrise together too!
When it comes to picking out a star bed for you and your partner there are plenty of different options so you will be sure to find one to fit your needs.
3. See Big Things
When it comes to a relaxing vacation that might mean doing things at your own pace. Africa is filled with some of the world's largest things that you need to check out at some point in your life!
For example, the world's largest desert, longest river, and even the oldest desert can all be found in Africa. These are all awesome landmarks that you can check out at your own pace and don't really need a guide to show you.
When it comes to exploring Africa there are some cool landmarks that you should totally take the time to see just to say that you've been there even if you want to spend the majority of your time relaxing!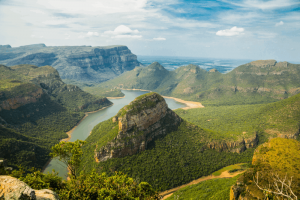 (Photo/ Unsplash)
4. Feast on Some Local Cuisine
Another great thing about Africa is that there are tons of great local places that you can check out. You will enjoy trying their craft beers, delicious coffee blends, as well as dining in their local establishments.
Feeding your mind, body, and soul is one of the most important steps when it comes to relaxing on your vacation and you're going to want to make sure that you check that off your list when you visit Africa.
Heading over to Cape Winelands is great for any wine lover or even someone who just wants to try some delicious food. You'll have a great time exploring the beautiful estates as well.
Another thing you will notice when it comes to finding local cuisine in Africa is that the people are extremely friendly and welcoming. You'll find that everyone enjoys meeting new people and they'll even be willing to help you out by recommending their favorite places for a bit to eat!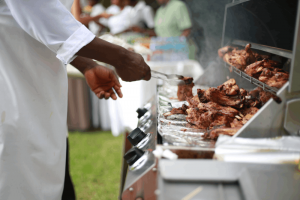 (Photo/ Unsplash)
5. Visit Local Markets and Bazaars
As we've just mentioned, you'll find that the people you meet in Africa are very friendly so you'll want to spend as much time as possible interacting with them. If you find rummaging for treasures to be relaxing, then you will love visiting local markets and bazaars during your trip to Africa.
This is a great way to get an authentic view of the country's culture and see their work first hand. Plus, you may be able to find some handmade treasures to take home as souvenirs for your friends and families.
Many people find shopping to be a relaxing and calming activity so you should definitely make your way over to the local markets and bazaars if you do too!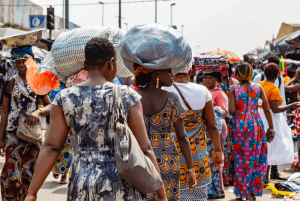 (Photo/ Unsplash)
Things To Do In Africa For Fun and Relaxation
Who said that having a relaxing vacation had to be boring? When it comes to finding fun things to do in Africa there are plenty of great activities that you can do that you will find relaxing but also enjoyable.
Make sure to add all of these awesome activities to your to-do list for your next trip to Africa so you can have a peaceful and relaxing vacation.
If you're looking for even more travel advice, then make sure to check out our blog as we have tips and tricks for travel from all over the world!
Source: https://www.articlecity.com/