Overview of the sights and attractions of Hollywood, including what to do and see along Hollywood Blvd, seeing Walk of Fame, Hollywood and Highlands and Melrose Ave shopping district.
Hollywood Blvd and Highland Ave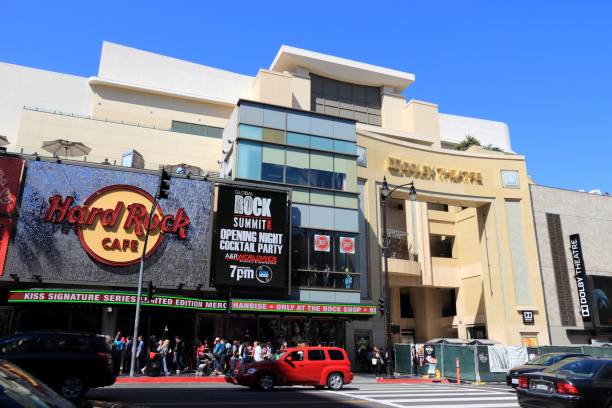 One of the exciting attractions to open in Hollywood in recent years has been the Hollywood and Highlands entertainment center on Hollywood Blvd and Highland Ave. A multi-level outdoor shopping, dining and entertainment complex, the Hollywood and Highland structure have an U shape with the open end facing out onto Hollywood Blvd. At any of the levels, visitors can observe Hollywood Blvd, the Walk of Fame, the Hollywood sign, the water spouting from many ground fountains or take in the sight of both the Kodak Theatre and Renaissance Hollywood Hotel. And at the base of the Hollywood and Highland center and along the Walk of Fame is Grauman's Chinese Theater. Here visitors from all over the world come to place their hands in concrete imprints of hands and feet left by some of the biggest movie stars in the world.
Walk of Fame
All along Hollywood Blvd and adjacent to the Hollywood and Highland center are little pink granite stars on the sidewalk known as the Walk of Fame. Representing over 2,300 stars of celebrities from music, film, radio, TV and producing, the Walk of Fame extends down Hollywood Blvd and up down the side streets.  There are many unique shopping opportunities along this stretch of Hollywood Blvd. Hollywood memorabilia stores are a dime a dozen on this stretch selling t shirts, plastic Oscars, old paparazzi photos of movie stars and more. In front of the Hollywood and Highland complex tour buses depart hourly for all parts of Los Angeles including tours of celebrity homes, Beverly Hills and Downtown Los Angeles.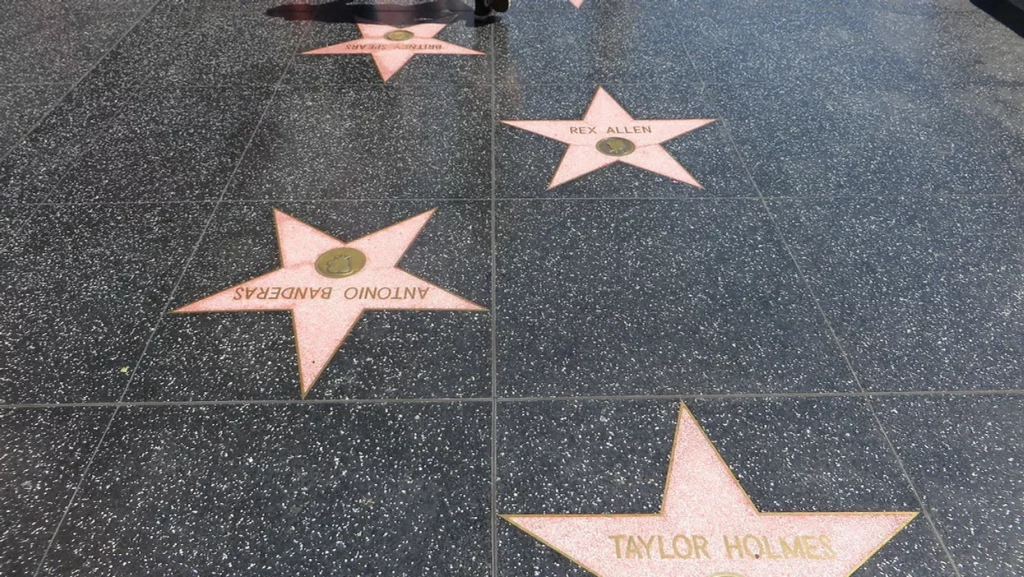 Franklin Ave
Extending behind the Hollywood and Highland center is Franklin Ave. Off of Franklin Ave is a little street that travels deep into the Hollywood Hills called the Outpost Estates. This was the original neighborhood that the first major Hollywood stars of the early talkies of the 20s and 30s called home. Many of the homes in this area have been renovated to maintain their original look and feel from that time. Today many of these houses are all over a million dollars and many, the higher up on the road, have amazing views of all of Hollywood and Downtown Los Angeles. Regular tour buses departing from Hollywood Blvd give visitors a complete rundown and exposure of this historic area of Hollywood.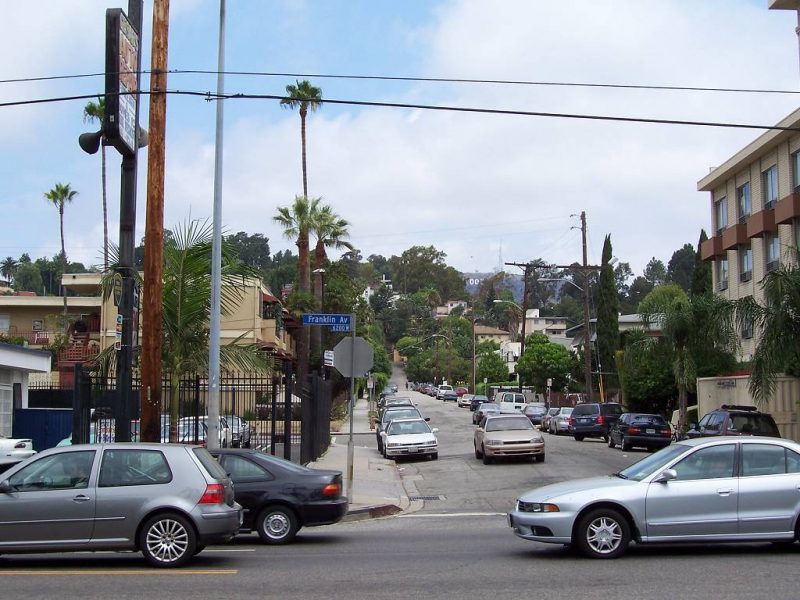 La Brea Blvd
La Brea Blvd is the major north, south route running through Hollywood. There are many boutique shopping and dinning opportunities along this stretch. At the intersection of La Brea and Melrose is where the Melrose Ave shopping district begins. Extending west from La Brea all the way past Fairfax and into West Hollywood, the Melrose Ave shopping district is full of boutique retailers selling everything from belts, boots, chic clothing, lingerie and even movie poster, books and music. It was Melrose Ave that the first ever Johnny Rockets opened stands there today. On Melrose Ave east of La Brea is the world famous Paramount Pictures studio lot.
Conclusion
A visit to Hollywood and taking in all the sights and attractions can easily be accomplished in little more than one or two days. Hollywood is a great place to book a hotel and make it a visitor's anchor while seeing the other sights of LA such as Beverly Hills, Universal Studios and West Hollywood.
Source: Free Guest Posting Articles from ArticlesFactory.com